Come up with your own print and create original printed aluminum beverage cans with your unique design. Be different, be memorable.
If you have an idea of what you would like to create, just fill in this non-binding form and our sales department will get in touch with you as soon as possible.
If you don't have a specific idea and there is something else we might do for you, feel free to let us know HERE.
Find out more information about our AXSPIN technology designed for printing on cylindrical and conical rotary objects. Get your printing machine!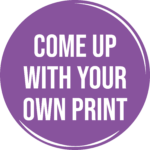 LET US KNOW WHAT IT IS THAT YOU WOULD LIKE AND OUR SALES DEPARTMENT WILL GET IN TOUCH WITH YOU AS SOON AS POSSIBLE.